Listen

Window Open Wide
Order Now!
Track Listing and Sample
1. Where the Wind Blows
2. Ruby (MP3)

3. On Our Knees
4. January
5. Split Rock
6. Hide Myself Away (Esther's Song)
7. Café Junkie (MP3)

8. The Old Tall Pines
9. The Hands of Man
10. I'll Love You Now
11. Window Open Wide
Contact: Shannon@ShannonBeck.com
Order by mail:
Shannon Beck 16425 SE 66th St. Bellevue, WA 98006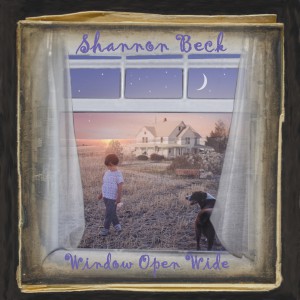 Bio

"I am not waiting on the world to change,"
says Shannon Beck, Seattle performing songwriter. Whether as peace pursuer, poet, or storyteller, Beck's writing is intentional and from the heart. In the words of Victory Review/Bill Fisher, "Beck's willingness to be vulnerable to give of herself, her experience and her feelings bring her lyrics their power… (which) after a few listenings, take on the quality of a friend's open-hearted conversation."
"There are messes we make and some that are made for us
Love we leave and love that leaves us ~
But even through the darkest of nights, there's the moon out there
throwing back the light of the sun, even when we think the darkness has won.
Love is as close now as it will every be and hatred is painfully near
These are the choices we make every minute; choosing to love through our fear.
Beck's music is heart-driven, contemporary folk. Some are tinged with blues or rock, but most are lyrical folk with contemporary sensibilities. In her self-produced debut album, Window Open Wide, Beck engages all of these traditions with some surprises.
Beck grew up in Washington state on a wheat farm. Her degrees in education and theology; her experience in the country and city; and working in peace and justice efforts infuse her lyrics with layers of meaning.
Beck is committed to helping create a more peaceful and just world. She has worked with the National Religious Campaign Against Torture, with Palestinian and Israeli people, and writes to inspire hope and understanding. "I don't have much room in my life these days for cynicism," says Beck. 
Shannon has shared the stage with national musicians Jenn Adams, Joe Jencks, Kurt Stevenson, and local favorites like Deb Seymour and Jim (The Emergency Folksinger) Nason. She performs solo, as a duo and trio, and with full band.